ComfortBilt FRESH AIR INTAKE KIT 2" X 5' FLEX - 3PVP-AIK
Regular price

Price:

$79.99

Regular price

List Price:

$89.00

Sale price

Price:

$79.99

Savings Of:

$9.01 (10%)

Unit price

per
Estimated Arrival: Between Dec 10 and Dec 12.
Description 



ComfortBilt FRESH AIR INTAKE KIT 2" X 5' FLEX - 3PVP-AIK
The ComfortBilt Duravent Fresh Air Intake Kit allows fresh air into an existing pellet stove installation using inside air. The kit allows an installer to decide the best possible location for the air intake vent, not the exact location as the wall thimble. The 2" diameter, 56" length flex hose expands to approximately 130". Kit includes a faceplate with screen, moisture barrier, 2" diameter aluminum flex, and two clamps.
ComfortBilt Fresh Air Kit is a venting system designed for stoves and inserts that use wood pellets and oil fuel. It is also built to vent corn and other biofuel products (Rated for continuous use flue temperatures up to 570 degrees F).
 **Use Code "Hearthpad50" At Checkout To Save $50 on your order! (Only Applicable If You Are Ordering A Pellet Stove And Hearth Pad Together On The Same Order)** 
New Stove Tutorials Videos
 Why ComfortBilt Pellet Stoves?
ComforBilt is committed to core morals of quality, exceptional value, and unbeatable convenience.
QUALITY
All ComfortBilt stoves feature a mono-bloc interior structure, heavy gauge steel exteriors, carbon-steel doors, air wash, low maintenance ceramic glass, multi-stage tempered steel electronic igniters, and an efficient burn design.
ComfortBilt offers consumers a stove with premium features and builds quality that rivals any on the market at nearly half the MSRP. We believe every family should have the opportunity to have an excellent pellet stove in their home at a reasonable price.
Every ComfortBilt pellet stove has a built-in intelligent controller that can be programmed to run a present-day/time-specific routine. In addition, the integrated programmable thermostat allows you to set the unit to a specific home temperature or can also be adjusted with the included remote control.
ComfortBilt strives to be the leading representative in the industry for pellet stove's efficiency and design. Every day they make sure they are meeting the needs and requests of their customers effectively and contentedly. ComfortBilt believes in the four cornerstones of excellent pellet stove production; high quality, good value, clean burning efficiency, and beautiful aesthetics. ComfortBilt is building quality amenities at affordable prices. 
ComfortBilt's Corporate Values:
Ensure every item is crafted with care and comes out of manufacturing meeting high expectations. 
Provide the highest level of customer support in the industry.
Partner with customers and suppliers to develop quality products.
Honestly, expertly, and fair dealings with customers, suppliers, employees, and governments. 

Environmentally Friendly
All ComfortBilt Pellet Stoves and Inserts have been certified by the Environmental Protection Agency. They have carefully designed the firebox to create airflow to burn completely, resulting in very little ash and little to no polluting smoke in our environment. 

Committed To Privacy
ComfortBilt is committed to your satisfaction. ComfortBilt Pellet Stoves and products are sold through only    ComfortBilt and their authorized retailer's secured and protected websites. Your information must never be revealed to outside third parties or collected and stored by cookies. 

The ComfortBilt Guarantee

ComfortBilt is so confident in their quality craft, using the finest materials, and the heavy-duty design of each product, that they offer a Limited Year Warranty on all our ComfortBilt Pellet Stoves. 
Warranty Information
ComfortBilt Limited Warranty
SMG Hearth & Home LLC (SMG), on behalf of its Comfortbilt brand, extends the following warranty for Comfortbilt stoves purchased from an authorized retailer.
Customer Care is available to assist you with troubleshooting technical issues.
Please contact Comfortbilt Customer Care at 1-919-973-4079 with any product concerns before contacting the retailer where you purchased your stove.
Warranty Coverage
Subject to the table below, SMG warrants to the owner of the ComfortbBilt stove that the stove will be free from defects in 
materials and artistry at the time of manufacture.
After installation, if covered components are found to be 
defective in materials or workmanship during the applicable warranty period, SMG will replace the covered components. In addition, 
SMG, at its discretion, may fully discharge all of its obligations under such warranties by replacing the product itself 
or refunding the verified purchase price of the product itself.
The maximum amount recoverable under this warranty is 
limited to the product's purchase price. In addition, this warranty is subject to conditions, exclusions, and limitations as
described below.
Warranty Period
Warranty coverage begins on the date of the original purchase. The warranty period for covered components is as follows:
Electrical Components, Burn pot, and Labor - 1 Year
Steel Parts (excluding burn pot) - 5 years
All replacement parts are covered for the remainder of the original or extended
warranty period or 90 days, whichever is longer.
Warranty Exclusions
The warranty does not cover damage or breakage due to misuse, improper handling, or modifications. There is no warranty on the paint, glass, fire brick, or any gaskets or against damage caused by corrosion. There is no expressed or implied performance warranty on Comfortbilt stoves, as SMG has no control over the installation, operation, cleaning, maintenance, or type of fuel burned.
SMG Hearth and Home LLC assumes no responsibility for, nor does the warranty extend to, smoke damage caused by reverse drafting of pellet appliances under shut-down or power failure conditions.
Some states do not allow the exclusion or limitation of incidental or consequential damages or limitations of implied warranties, so the limitations or exclusions outlined in this limited warranty may not apply to you. This limited warranty gives you specific legal rights, and you may have other rights which vary from state to state. Warranty is void if the ComfortBilt stove has not been installed, operated, cleaned and maintained in strict accordance with SMG's instructions.
Neither SMG nor the Retailer from who you purchased your Comfortbilt stove shall be responsible, legally or otherwise, for the incidental, or consequential damage to property or persons resulting from the use of this product. Any warranty implied by law, including but not limited to implied warranties of the merchantability or fitness, shall be limited to One (1) year on the breach of this warranty or any type of warranty expressed or implied by law.
SMG shall in no event be liable for any special, indirect, consequential, or other damages of any nature whatsoever in excess of the original purchase price of this product. All warranties by SMG are set forth herein and no claim shall be made against SMG on any oral warranty or representation.
Federal Tax Credit Information

Federal Tax Credit
Beginning in 2023, consumers buying highly efficient wood or pellet stoves or larger residential biomass heating systems may be eligible to claim a 30% tax credit – capped at $2,000 annually – based on the full cost (purchase and installation) of the unit. The credit runs through December 31, 2032.
What is this new tax credit?
     •Effective Dates: The new tax credit under Sec. 25(C) of the U.S. Internal Revenue Code ("IRC" or "tax code") is effect on January 1, 2023 for qualifying purchases and installations completed on or after that date, through December 31, 2032.

     •Credit Amount: Creates a new tax credit of 30 percent of the purchase and installation costs (with a $2,000 annual cap with no lifetime limit) for tax years 2023 through 2032.
     •Qualifying Products: Qualifying products (any biomass-fueled heater) must have a thermal efficiency of at least 75 percent per the higher heating value (HHV) of the fuel The EPA certified wood heater database may be referenced (not all products on the EPA list qualify. Look for products with efficiencies of at least 75 percent) 
Once installation is complete, be sure to keep your receipt, including product and installation, and download and save our 2021-2023 manufacturer's certificate so you can claim the credit without issue.


Maintenance & Troubleshooting Videos
---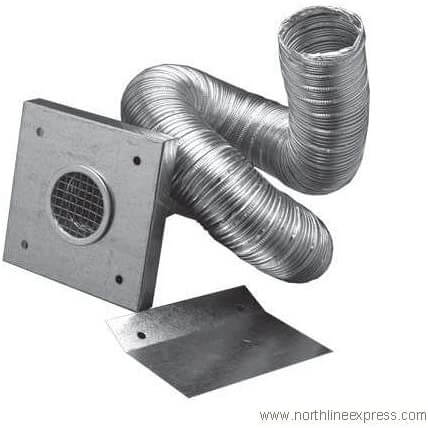 QUESTIONS & ANSWERS
Have a Question?
Be the first to ask a question about this.
Ask a Question
Let customers speak for us
HomeOutdoors Is An Authorized Online Retailer For These Brands